Fluffy and sweet: Magnolia by Kristi Cook
Thursday, October 16, 2014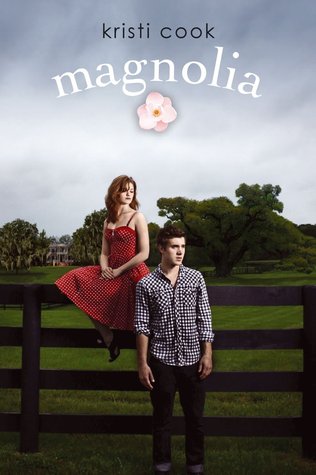 by Kristi Cook
In Magnolia Branch, Mississippi, the Cafferty and Marsden families are southern royalty. Neighbors since the Civil War, the families have shared vacations, holidays, backyard barbecues, and the overwhelming desire to unite their two clans by marriage. So when a baby boy and girl were born to the families at the same time, the perfect opportunity seemed to have finally arrived.




Jemma Cafferty and Ryder Marsden have no intention of giving in to their parents' wishes. They're only seventeen, for goodness' sake, not to mention that one little problem: They hate each other! Jemma can't stand Ryder's nauseating golden-boy persona, and Ryder would like nothing better than to pretend stubborn Jemma doesn't exist.




But when a violent storm ravages Magnolia Branch, it unearths Jemma's and Ryder's true feelings for each other as the two discover that the line between love and hate may be thin enough to risk crossing over.
Romeo and Juliet. Sound familiar? Star-crossed lovers forced to be apart because of a lifelong feud between the Montagues and the Capulets. Jemma and Ryder live a completely asymmetrical life. Born in the same year to families who have been friends since World War II, Jemma and Ryder are forced to always be together. Their mothers practically planned their wedding as soon as they were born. Perfectly Convenient right? Wrong. They wanted nothing to do with each other.
Jemma and Ryder are characters that are difficult to like. Both of them are infuriatingly self-centered and stubborn. It seemed like their life goal was to get rid of and deny any inchling of feelings that they had for each other. It was always a matter of pride. But unlike what the blurb suggests it was clear from the very first chapter that they didn't hate each other, not really, and the undeniable chemistry between the two of them reappears when a massive storm strikes Magnolia Branch and they have no one to turn to but each other.
Magnolia
was a cute book filled with adorable romance and pent up emotions. Kristi Cook really knows how to cook up scenes just bursting with sparks and chemistry- the banter between Jemma and Ryder had me hooked! The book, however, also found its faults in its strengths. The two main characters only ever came alive when they were with each other and just fell flat when faced with the other aspects of the story. It was a shame because
Magnolia
really set its foundation on its themes of family but both Jemma and Ryder lacked the solid characterization that would have made the whole set-up flawless.
Everything was evenly paced, easing the readers into each new scene at just the right moment. Aside from the lack of strength on Jemma and Ryder's characterization, I felt no bumps in the road. The book felt more like a short story, if anything. Fluffy and sweet, Magnolia is the perfect book for readers looking for a light story filled with romance and steamy banter.