There is no escape// The Walled City by Ryan Graudin
Saturday, November 01, 2014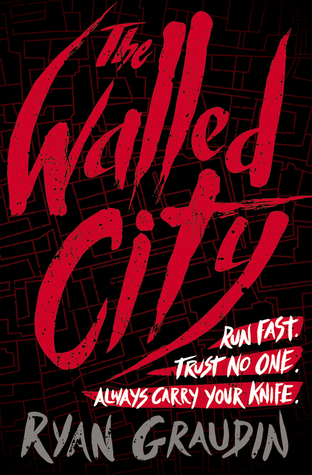 by Ryan Graudin
Expected publication: November 4th 2014 by Little, Brown
advanced review copy provided by
Little, Brown Books for Young Readers
730. That's how many days I've been trapped.

18. That's how many days I have left to find a way out.

DAI, trying to escape a haunting past, traffics drugs for the most ruthless kingpin in the Walled City. But in order to find the key to his freedom, he needs help from someone with the power to be invisible....

JIN hides under the radar, afraid the wild street gangs will discover her biggest secret: Jin passes as a boy to stay safe. Still, every chance she gets, she searches for her lost sister....

MEI YEE has been trapped in a brothel for the past two years, dreaming of getting out while watching the girls who try fail one by one. She's about to give up, when one day she sees an unexpected face at her window.....

In this innovative and adrenaline-fueled novel, they all come together in a desperate attempt to escape a lawless labyrinth before the clock runs out.
I always assumed that The Walled City was a dystopian novel, so as I read each page I was surprised to discover that the book isn't set in a distant future or in a different world- it is set in our world, in our timeline. However, it felt like an entirely different world. It was incredibly dark and dangerous, and I could feel the tension in every scene. In a district filled with cheaters, gangs, prostitutes, and drug dealers, you wager your life every day.
The Walled City is a riveting novel written in three different perspectives- Dai's, a drug trafficker with a dark past and a dangerous secret; Jin's, a girl who spent years pretending to be a boy to survive the City and to look for her missing sister; and Mei Yee's, a prostitute with a silent desire to escape and find a better life outside and see the sea. Three different people from different walks of life in the City, three different lives that ended up finding each other and working together to destroy the King Pin's gang from the inside and escape the City forever.
I loved Dai, Jin, and Mei Yee equally. At first glance, they seemed like people who gave up and succumbed to the City's powers, but they actually had this fire within them- this quiet determination that pushed them every step of the way. Learning about their pasts, my heart broke and cheered for them even more. My heart raced along with theirs at every danger that they faced and believe me when I say that it was like they were cats that have nine lives considering all of the near-death circumstances that they got into. Reading this book was like asking for a heart attack!
The book had echoes of a reality that we refuse to accept. There are places out there just like the Walled City, like the Kowloon Walled City that the book is based on. Ryan Graudin managed to create a carbon-copy vision of those places and projected it into the book. It was absolutely masterful and terrifying. Her writing kind of reminded me of Haruki Murakami's- tasteful, smart, fluid, and realistic with a drop of magic. It keeps you guessing and leads you on a spiral of fictional reality that will shake your core. Words cannot express the experience The Walled City gave me, you'll have to read the book yourself. But be careful! In the Walled City, there is no escape.